On the side of Abu Dh
abi's bustling Airport Road and a two-minute walk from Abu Dhabi Media lies the Yemeni restaurant, Besbas, my favorite restaurant in Abu Dhabi. Upon entering, visitors are given the choice between sitting at a table or in traditional Gulf way (on the floor on a majlis). Choose the Majlis, of course. The waiters lay out a large plastic sheet on the carpet for all the food you
will
drop; it is recommended to eat by hand and spilling is not unheard of.
I last visited Besbas in the morning, so I had the chance to try their breakfast dishes. I opted for their traditional breakfast: a bowl with a mix of beans, eggs, and cheese, still simmering after being cooked over a fire, with Besbas' delicious homemade flatbread. Simple, but scrumptious. My tip: tear off a strip of bread and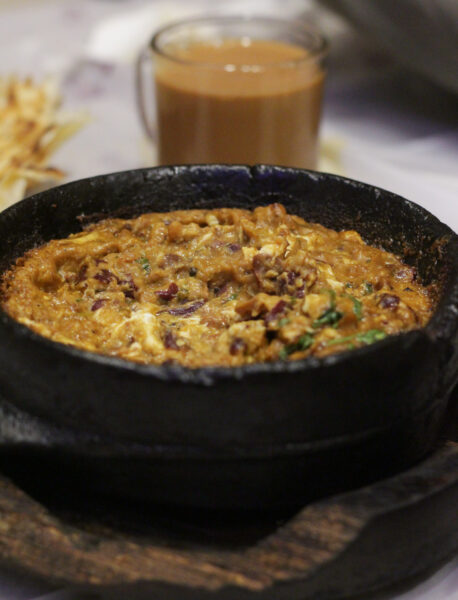 use it to scoop the beans, eggs, and cheese. My breakfast came with a choice of tea so I had Karak, a spiced black tea with sweetened milk of South Asian origins. Once again, a delicious treat. This hearty breakfast really satisfies the Friday morning brunch craving, and for just 25 AED.
This was perhaps my seventh or eighth time eating at Besbas, the first few times have been in the evening for dinner. I have brought larger groups of people—up to 15 at a time—and have found that the restaurant was ideal for this. The majlis serves as a much more open and communal type of seating than a table and the fact that everyone eats from the same plate makes the experience truly social.
Aside from breakfast, Besbas specializes in big platters of rice with vegetables and meat or chicken cooked in different ways. As these are their signature dishes, I had to order a serving of the Zorbian rice dish, a dish with extremely tender meat, soaked in a flavorful marinade, cooked, then fried for extra crisp. Other dishes include Mandi, Madfoon and Kabsa, each with its own aromatic flavor profile.
The rice dishes are served with a chili sauce and a yogurt sauce, which are to be mixed into the rice by hand. Proceed to eat with your hands and with the bread. After finishing (or becoming full, then getting the half of the dish you were too full to eat wrapped up to take away), the restaurant has a washing area in the middle specifically to wash the rice and sauce off your hands. Messy as it may be, this method of eating enhanced the cultural experience and made the food even tastier.
After washing your hands and paying the bill, I recommend taking a stroll down Airport Road along the honey and jewelry shops, then grabbing a cup of juice at a small cafeteria. I had a cup of banana juice at Juice Time down the street—a great way to end your meal.
Every time I leave Abu Dhabi, I struggle to find Yemeni food to satisfy my cravings. So far, no restaurant in the world—as explored through my humble travels—compares to Besbas in quality, taste, experience, and price. After leaving the restaurant, I looked back at the building and noticed an apartment for rent on the top floor. I told my friend that if I ever had to find myself an apartment in Abu Dhabi, this is where I would want to live. We laughed and decided that, for the sake of my health, I should find somewhere else.